Join us at the Startup Careers event to learn effective networking strategies and apply them while speaking with real startup recruiters.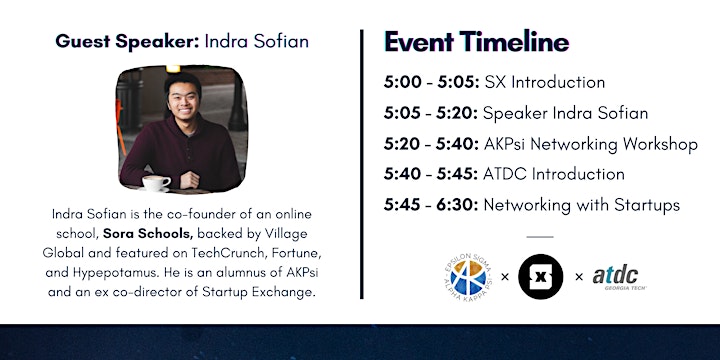 "Your network is your net worth." — Porter Gale (internationally recognized public speaker, business-builder, and entrepreneur).
Regardless of your industry or level of experience, one of the most vital factors in enhancing your career is the depth of your network. Being able to effectively network with others and form meaningful connections is a skill that individuals often learn too late. Developing a robust network of mentors, colleagues, and above all, driven individuals early in your career can not only set you up for potential successes but also serve as a safety net during failures.
We're here to help grow your network! On November 2nd at 5 pm join us at the Startup Careers event hosted by Startup Exchange (SX), the Alpha Kappa Psi (AKPsi) Professional Business Fraternity, and Georgia Tech's Advanced Technology Development Center (ATDC). Here, participants will learn about both the fundamentals of networking and how to pitch themselves to recruiters (with an emphasis on startup recruiters).
The Startup Careers event will kick off with an introduction to Startup Exchange followed by a speech by Indra Sofian, founder of Sora Schools, ex-director of Startup Exchange, and alumnus brother of AKPsi. By drawing upon his experiences in the startup space, Indra will provide participants with practical advice on how to search for and apply to jobs at startup companies. After Indra's talk, AKPsi will host a workshop where participants learn core strategies for both pitching themselves to recruiters and networking. Finally, the event will conclude with an enriching networking session where participants can connect with startup company representatives and potentially discuss employment opportunities and receive advice for their entrepreneurial endeavors. In all, we hope that Startup Careers allows you to develop genuine connections with numerous passionate and driven individuals.